On the sixth day of Christmas,
my true love sent to me,
Six Geese A-Laying…
Alex and Chelsea talked for years about starting a First Aid & CPR training company, but it wasn't until 1 year ago when they made the leap and opened Cochrane Emergency Training Services.
As healthcare professionals, both Alex and Chelsea have had to take these courses for their entire careers, so they completely understand the stigma of first aid training = dry and monotonous.
"When we started CETS, our #1 goal was to pull away from their belief and prove that training can be done in a way that is enjoyable. Our mission is to leave participants feeling that they have learned some valuable skills, while still being able to have a few laughs along the way." – explains Alex and Chelsea.
Both Alex and Chelsea are huge fans of supporting local and try to do so with every opportunity they get, and they are proud to call Cochrane their home.
"We want people to know that you don't have to go into Calgary to get workplace approved First Aid and CPR training."
Courses taught at Cochrane Emergency Training Services:
Standard First Aid & CPR/AED Level C
Emergency First Aid & CPR/AED Level C
Basic Life Support CPR for Healthcare providers
Heartsaver CPR Level C
Child & Infant Health + CPR Level C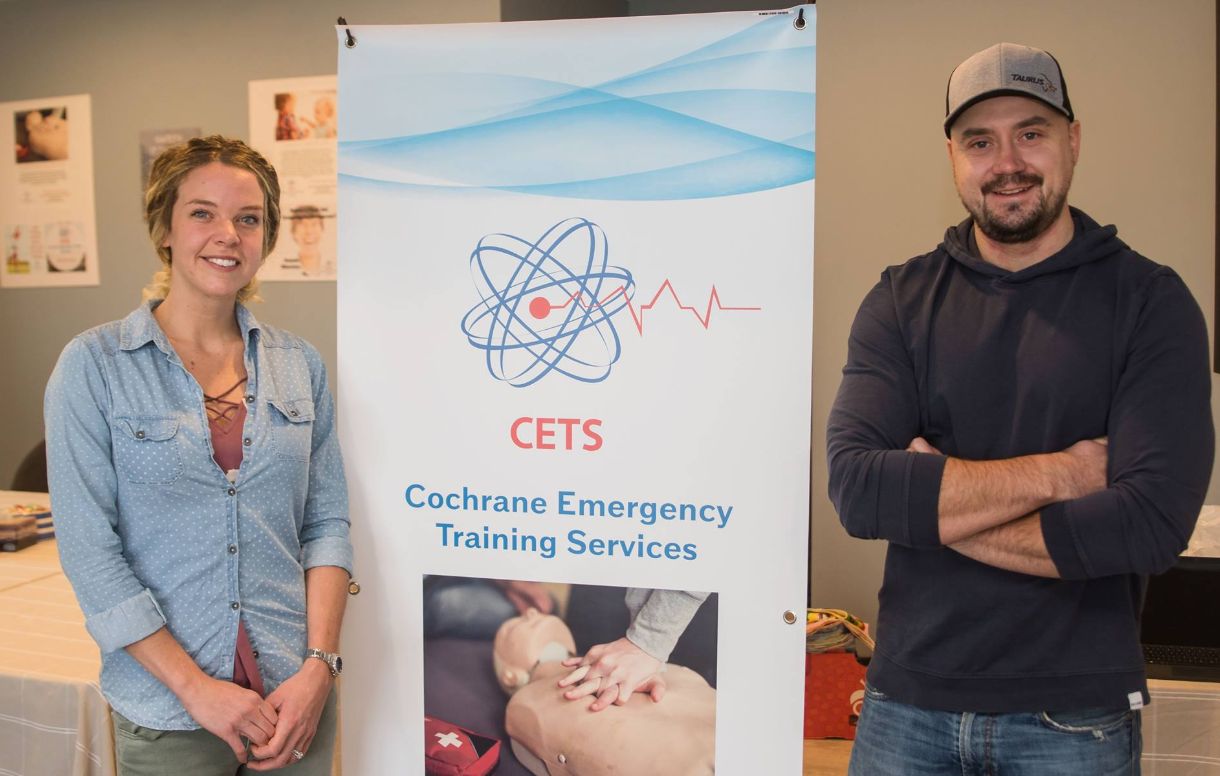 You can follow Cochrane Emergency Training Services,
on FACEBOOK
or on INSTAGRAM.
---
NOW FOR the 6th Day of Christmas FUN!
One of the best things about Cochrane Emergency Training Services,
is their goal to make life-saving learning fun!
DAY SIX GIVEAWAY includes:
Start the New Year off right and get certified/re-certified!
One FREE First Aid Course taught by CETS!
(You choose which one!)
THIS GIVEAWAY WILL RUN UNTIL SUNDAY,
DECEMBER 16TH AT 12:01am MST.
TO ENTER, YOU MUST BE A RESIDENT OF COCHRANE, ALBERTA
(OR HAVE A COCHRANE ADDRESS FOR PRIZE DROP-OFF)
AND BE OVER THE AGE OF 18 YEARS OLD.
ONE WINNER WILL BE CHOSEN AND CONTACTED BY EMAIL.
THE WINNER WILL HAVE 48 HOURS TO RESPOND,
OR ANOTHER WILL BE SELECTED.
FOLLOW THE RULES OF THE RAFFLECOPTER WIDGET BELOW,
AS ALL RESULTS WILL BE DOUBLE CHECKED.
a Rafflecopter giveaway
GOOD LUCK!
For more 12 Days of Christmas Fun, CLICK HERE
*Cochrane Emergency Training Services graciously donated one First Aid/CPR course
for giveaway to the Urban Casual Gift Guide 2018.