A Mount Engadine Lodge stay in Kananaskis is a memory of exceptional service, amazing locally sourced dining and a Rocky Mountain majestic location like no other!
---
Having trialed one of Mount Engadine's glamping tents previously during a very rainy (hail and thunder!) summer stay, we set off on another glamping attempt… this time in February!
For a mid-week stay, you can usually snag an affordable rate at this Castleavery Property – factoring in what you would spend in Calgary or Banff on the costs of lodging, fuel and meals. The quietness of the back-country paired with the amazing views are your main reasons for booking, but after you've been filled up with the all-inclusive delectable food offerings created in-house and sourced locally, drank your weight in tea, coffee or hot chocolate, slept in the most heavenly bed and given a full-service experience, you'll be finding excuses to make your way back to stay again soon.
Spend the day exploring Canmore, cross-country skiing in Kananaskis Country at nearby Mount Shark, or arrive early and hit the snow-shoeing and fat-biking trails from Mount Engadine's doorstep. Your pet is even welcome at this "Top Ten Hidden Gem" by TripAdvisor, guaranteeing a family destination resort experience, or a spot for the ultimate romantic getaway.
Let's talk about the food.
Tea Time – Served between 2pm to 5pm on arrival or daily (for multiple day stays). Have some tea, coffee, hot chocolate or a bevy from the bar (not included) in the main lodge. Share a charcuterie board for two, plus have dessert.
Dinner Time – 7pm – A four course dinner offering awaits you in the main lodge, where you can dine alone or with others. (Just let the staff know your preference at tea time.)
Breakfast – 8am to 9am – Order a la carte from the daily breakfast menu (think crepes & heaps of bacon!) or grab directly from the cold buffet.
Packed Lunch – As you check out from your stay, pick up your packed lunch in the main lodge. This is a handy feature if you are heading off to do more exploring back-country, or if you are staying at the lodge for multiple days.
Romance Packages Available – Order Prosecco or Champagne with chocolate covered strawberries for your arrival (or any other time on a multiple day stay!) to up the ante on your memorable stay!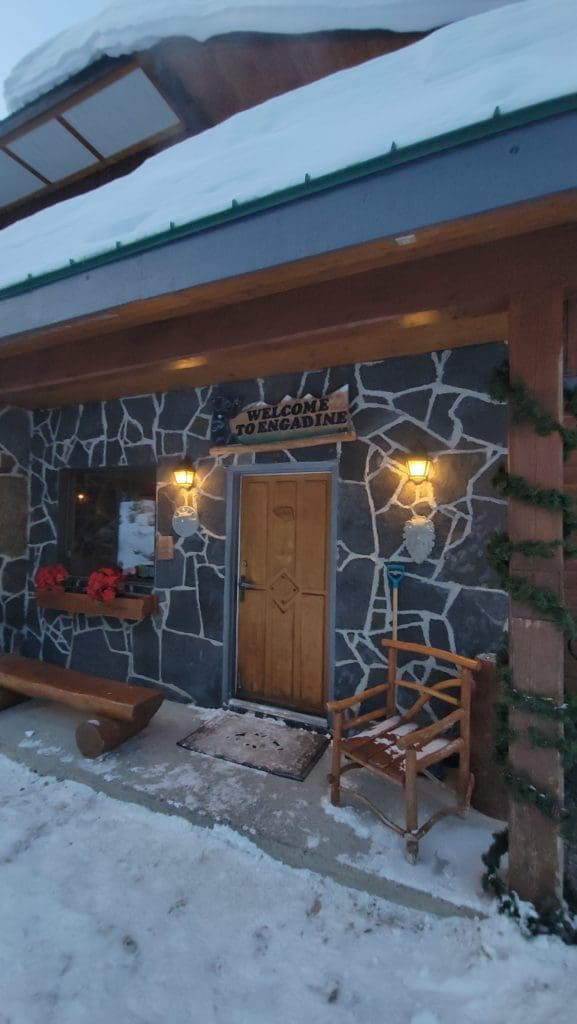 As you may have noticed, I have zero photos of the four-course dinner. Sorry, not sorry!
---
WINTER GLAMPING SALE ON NOW AT MOUNT ENGADINE:
Glamping Tent availability mid-week is now only $395 per night until the end of April (2 adults, all meals included.) Plus, you can add a little romance onto your stay & save too!
Book online or give them a call at: (587) 807 – 0570 or toll free at: (888) 959 – 5622.
---
Disclaimer: While Mount Engadine Lodge did provide us with a romance package upgrade, the stay was entirely paid by us. We thank them for their continued hospitality, but all opinions expressed are our own.