April 18-24 is National Volunteer Week.
This year the theme is "The value of one. The power of many."
Volunteer Canada highlights that, "the magic happens when we work together towards a common purpose."
The challenges of 2020 and 2021 have certainly proven that, as we have seen scores of volunteers provide leadership in dealing with the challenges of COVID-19, but who also remain active in all aspects of our amazing community.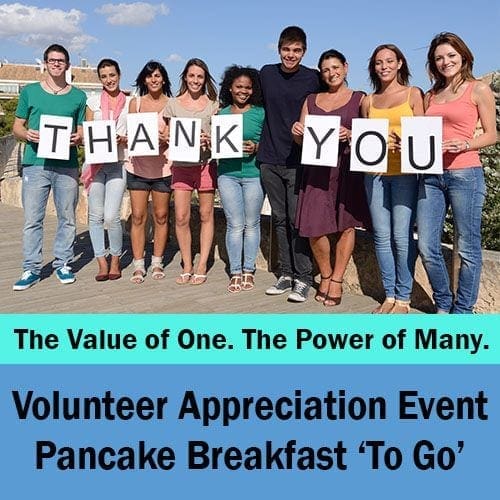 It is hard to know how to truly show someone you appreciate them; the challenge lies in the fact that different people will respond to different acts. The genuineness behind the "THANK YOU" can be lost in the business of planning and presentation.
In the book "The Five Love Languages" by Gary Chapman, there are five different ways to show love towards a person and each person responds uniquely to these acts.
Could appreciation be presented in the same way?
The five languages are: "Words of Affirmation", "Acts of Service", "Receiving Gifts", "Quality Time", and "Physical Touch". Understanding your volunteer's language might alter how you appreciate them.

"Words of Affirmation" might involve providing a
written letter of thank you to the volunteer.
An "Act of Service" might be providing a car wash to driving volunteers.
"Receiving Gifts" might be providing volunteers with an organizational jacket as a gift.
"Quality Time" might be taking a volunteer out for an individual coffee.
"Physical Touch" might be a simple hug of thank you.

Another aspect to consider is how volunteers are motivated.
Motivation can be internal (intrinsic) or external (extrinsic). Someone who is volunteering based on internal motivation is involved to gain benefits that are not noticeable to others. This could be for the enjoyment of helping others or to reduce loneliness. Extrinsic motivation is when one performs a task to achieve an outward goal or reward. This could be to gain job skills or to be recognized for one's performance. These are all valid motivations, however understanding how a volunteer is motivated can only be overcome through building deep personal relationships. Depending on how many volunteers you have in your organization this might be difficult.
Ultimately, thanking and showing appreciation to volunteers should be an ongoing process.
Volunteers participate to support in community building, to create a sense of belonging, and to feel good about themselves, others, and their community. A smile, a phone call, or a thank you card can make a huge difference to someone. This year however, planning a larger volunteer appreciation event seems especially relevant, as volunteers have made such a HUGE impact in Cochrane's collective resiliency in 2020 – 2021.
Celebrating volunteers in a big way may be difficult this year with COVID-19 restrictions; however, in Cochrane, the volunteer appreciation committee is finding a way. In partnership with FCSS and the Town of Cochrane, they are hosting the Pancake Breakfast "To Go" event planned for Saturday April 24th 9am – 11am.
Who is invited?
Anyone who has taken the time to volunteer in the past year with sport, with local schools, or in community. Organizations participating are FCSS, CISC, Helping Hands Society of Cochrane, Activettes, Cochrane and Area Events Society, Victim Services, Senior's for Kids, and so many more. This special event allows multiple organization in Cochrane to collectively show how much they appreciate Cochrane volunteers.
Cochrane is known for its commitment to "caring" and the volunteers in our community are truly "one of a kind". Cochrane truly exemplifies "The value of one. The power of many." and we have so much to celebrate.
See you there!
OR, head to www.Eventbrite.ca and search for Volunteer Pancake Breakfast or Pancake Breakfast "To Go"
NOTE: THIS EVENT HAS BEEN POSTPONED DUE TO NEW COVID-19 RESTRICTIONS