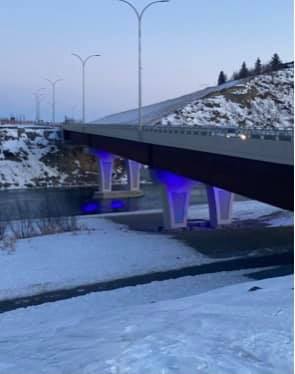 This evening, the lights on the Town's Jack Tennant Memorial Bridge will shine blue, in honour of Sgt. Harnett of the Calgary Police Services.

Killed in the line of duty on New Year's Eve, the Town of Cochrane would like to extend its condolences to family, friends and colleagues of Sgt. Andrew Harnett, and dedicate the bridge's blue hue in his honour.
"Our community relies on the dedication of law enforcement officers and all emergency responders to keep Cochrane safe," says Mayor Jeff Genung. "This is a life needlessly taken; lighting our bridge in his honour shows our support, and I hope, serves as a reminder to everyone about the preciousness of life and the situations our first responders place themselves in on our behalf."
How You Can Join In:
Tie a blue ribbon on a mailbox, a tree, on your door, from a light fixture in support of our law enforcement and emergency responders, who do such amazing work.
You can also change up the light bulbs to a blue hue or have your kids draw artwork to say thanks, and place it in the upper windows of your house.
GO BLUE COCHRANE!