The Community Kitchen Good Food Box has been a program offered in Cochrane since 2016, at first by a lady who lived in the Heartland area and would have people stop by her house to grab a box from her garage. With the start of the pandemic + more boxes than her garage could store, the decision was made to move the program to Bow Valley Baptist Church.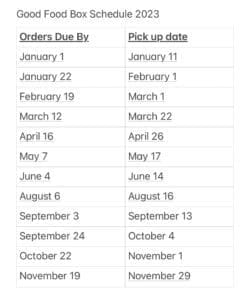 The Good Food Box Program (GFB) is a program under the Community Kitchen Program of Calgary, that allows for anyone to purchase a box of fresh fruits and vegetables at an affordable price. The boxes are put together by a group of dedicated volunteers and then dropped off at the church in Cochrane for pick-up.
Three sizes of boxes are available:
Small – $28 (20-25lbs)
Medium – $33 (30 – 35lbs)
Large $38 (40-45lbs)
The purchase price includes a $1 fee for delivery to Cochrane, as this is a non-for-profit program. Any funds left over are used to purchase extra boxes to be given to families in need or to stock up the Helping Hands Food Shed at the Bow Valley Church location. (54 West Aarsby Road)
Orders for the Good Food Box are placed once per month (see schedule) using a Google Form that is posted to the Cochrane Good Food Box Facebook Page.
Payment is made by e-transfer and should be submitted at the same time the form is filled out.
Pick-up days are on Wednesdays, with the start time for pick-ups depending on when the truck arrives and is unloaded in Cochrane (usually around noon).

Pick-ups must be made by 6pm or the remaining boxes are donated. Note: It is okay to have a friend or neighbour pick-up your food box, just note that in the Google Form.
Here is what we received in January's Good Food Box and using the No Frills website for pricing, what it would cost in-store.
2 Sweet Potatoes or Yams – $5.54
1 Honey Pomelo – $3.99
1 Pint of Grape Tomatoes – $4.00
2 Spaghetti Squash – $11.06
2 – 2lbs bags of carrots – $5.98
1 – 5lbs bag of potatoes – $4.99
1 – 3lbs bag of yellow onions – $2.99
2 Cucumbers (in the video I thought I had one Zucchini and one Cucumber) – $3.08
8 Oranges or 3lbs – $7.99
8 Apples or 3lbs – $7.59
6 Pears – $6.59
1 Honey Dew Melon – $5.99
TOTAL IF PURCHASED AT THE STORE: $69.79
FOLLOW THE COCHRANE GOOD FOOD BOX FACEBOOK PAGE TO ORDER AND FOR UPDATES.