After a successful 2021 launch, the Town of Cochrane is pleased to welcome back the e-scooter pilot project on March 25, with Canadian company, Roll.
This pilot project supports the Town's environmental and transportation goals by limiting carbon emissions, reducing traffic congestion, and minimizing transportation gaps. The pilot will be at no cost to the Town, with a portion of the revenue from each trip donated to the Town for micro-mobility related projects, including building and maintaining protected bike lanes.
"We are thrilled to welcome back e-scooters for the season as it will contribute to safe and affordable transportation options here in Cochrane. With last years success, we see this as a positive service leading to more community connectivity."

says Devin LaFleche, Community Connectivity Advisor, Town of Cochrane.
Similar to last year, Cochrane can expect up to 150 e-scooters found throughout the serviceable areas in town, between Fireside in the south to Heritage Hills in the north.
In 2021, Roll reported the following usage statistics in Cochrane: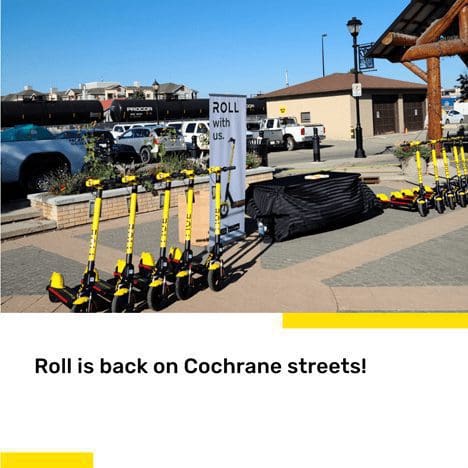 6612 total trips
1963 unique trips (unique users)
3.2km average riding distance
18.44 minutes average riding time
With a focus on safety, Roll closely follows guidance from Alberta Health Services and the Public Health Agency of Canada. In Cochrane, scooters are limited to those over 16 years of age and aren't allowed on the sidewalk or highways. Although helmets are not required, they are encouraged. Roll offers safety training workshops and free helmets for users. The maximum speed is the cycling maximum of 20 kilometres per hour, but can be slowed (automatically, via GPS) to 10-15 km/h when in certain high-concentration areas like First Street downtown.
For more information on the Electric Scooter Pilot Project in Cochrane, visit: https://www.cochrane.ca/escooters