Mini Egg Shortbread Cookies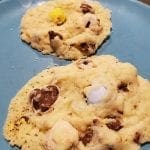 If you're a fan of Mini Eggs (even if you're not), you'll love these buttery shortbread cookies paired with the taste of Easter.
1 1/4 cups flour
1/2 cup cornstarch
1/2 cup icing sugar
1 cup salted butter (room temperature)
2 cups Mini Eggs
Put 1.5 cups of Mini Eggs into a Ziploc bag, then proceed to hit them with something heavy. A hammer may be overkill (no pun intended), but a measuring cup may suffice. Ideally, you'd like them broken, but not completely pulverized beyond recognition.

Preheat the oven 275°

Put the following into your mixer.

1 1/4 cup flour

1/2 cup cornstarch

1/2 cup icing sugar

Add in,

1 cup – room temperature, salted butter

Mix all the ingredients together until you have a workable dough. (Low speed)

Add in the bag of Mini Eggs and combine well.

Roll into ping-pong sized balls and push down with the back of a spoon on a cookie sheet. These cookies do not flatten like a regular cookie.

BAKE FOR 22 – 25 MINUTES.