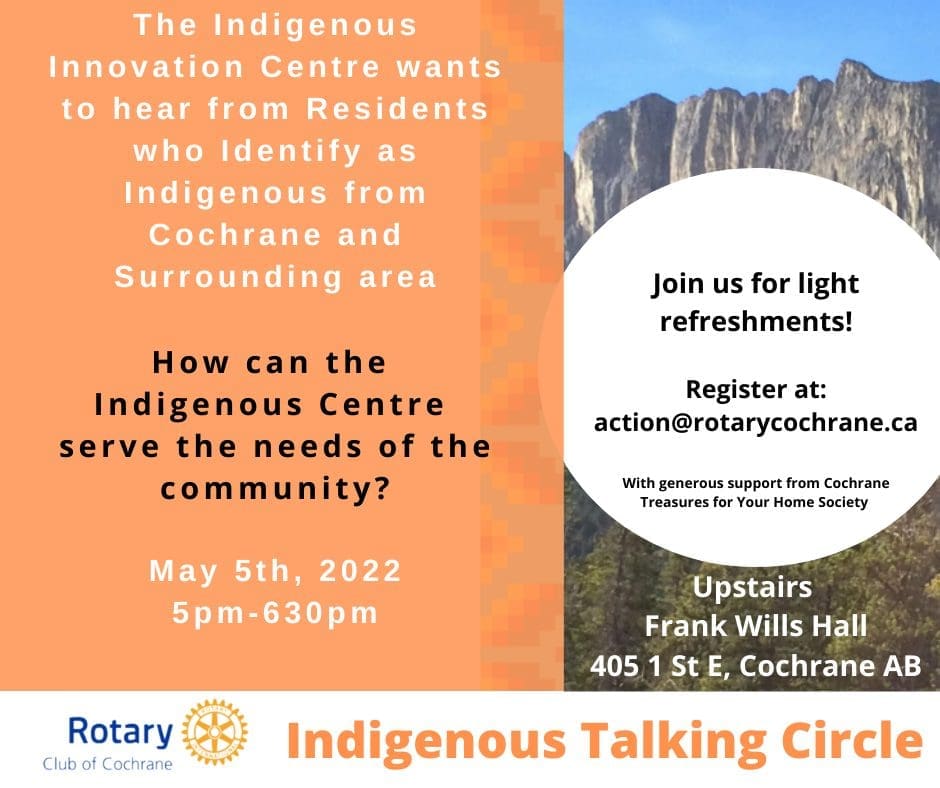 Stoney Nakoda Elders & Knowledge keepers, along with the Rotary Club & other Cochrane supporting community partners, are leading the development of a much-needed Indigenous Centre in Cochrane and surrounding areas.

This group has been working to build a circle of Indigenous and non-Indigenous people in Cochrane, to work together to rebuild our society from the ground up by creating a platform of unity, collaboration, mutual respect and justice. The objective is to establish an Indigenous Innovation Centre in the town of Cochrane that is managed and operated by Indigenous people for Indigenous people, with the active encouragement and support of non-Indigenous allies.

"We need to be equal partners in this process, and to educate and share our culture with the Town of Cochrane, because we have spent over 150 years learning the non-native culture, so maybe it's time now to share our world, too, with the Town of Cochrane."

Tina Fox

WHY? Club of Cochrane has been working to build relationships and increase our understanding with Indigenous people as part of their activities for several years. Community needs assessments, projects and programs have historically been devoid of any Indigenous history, perspective, experience, culture and knowledge. As a result, the community is missing out on the rich perspectives that the Indigenous world view offers, and Indigenous peoples are invisible within the social and economic infrastructure of the community.

WHAT? The Indigenous Advisory for this project and the community partners are facilitating a conversation circle for Indigenous people living in and near Cochrane to have their voice inform the project, the center, its governance, and its activities. There will be ceremony, refreshments and sharing.
WHEN? May 5th, 2022, 5-6:30 pm
WHERE? Upstairs in Frank Wills Memorial Hall.

REGISTER or REACH OUT: action@rotarycochrane.ca
"When I go into Cochrane, it's unfortunate, but the reality is, I see my community members struggling in the Town of Cochrane, looking for rides home, asking for money from the people of Cochrane. In many ways, they're lost in a foreign place. This is an opportunity to help our people, from the beginning of Canada, we've always had our struggles in being successful in an urban environment and modern environment that's not part of our traditional governance systems and way of living. Having our identity being shared and having a centre in the centre of the town to me is very life changing. I feel it will create a safe place for our people, but it's also an opportunity to be innovative and creative in building relationships."

Daryl Kootenay