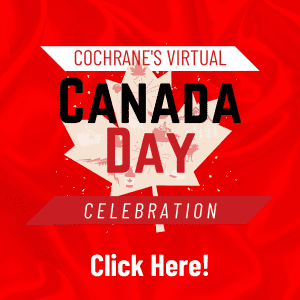 We could not be more excited to be a part of Cochrane's Virtual Canada Day Celebration this year & we will also be featuring the big day on Urbancasual.ca throughout the whole month of June!
But FIRST, can we ask you a favour Cochrane?
All this virtual fun only works if you are following the right pages, so right now >>> PLEASE GO FOLLOW the Cochrane & Area Events Society Facebook page and share this event with your Cochrane friends too!
It's going to be a fun month of prizes and games that you will not want to miss!
PLUS … WE'VE GOT A SPECIAL EVENT FOR COCHRANE & AREA THIS CANADA DAY, SO STAY TUNED FOR MORE INFO >>> COMING SOON!