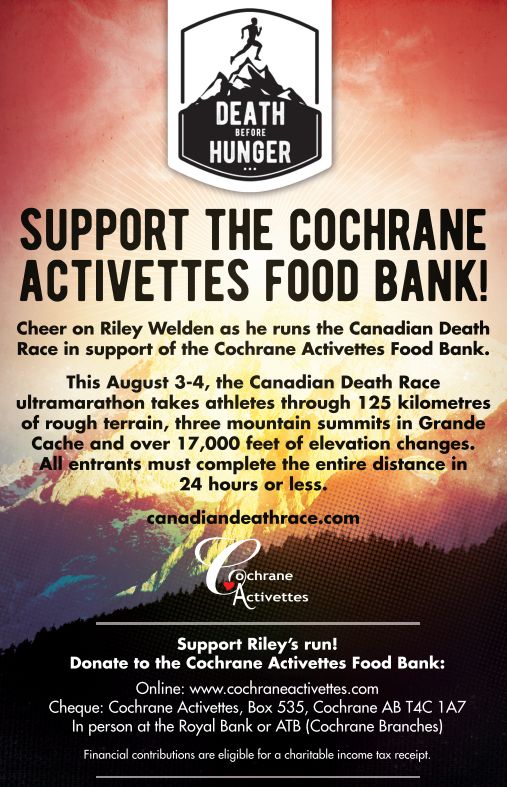 On August 3rd and 4th, one local Cochrane adventure-seeker and town staffer, Riley Welden, will be participating in a race in support of the Cochrane Activettes Food Bank.
The Canadian Death Race , regarded as one of the most physically intense races in the world, takes athletes through 125 kilometres of rough terrain, three mountain summits in Grande Cache and over 17,000 feet of elevation changes.
Plus, the race must be completed in 24 hours or less!
Welden will be running his race in support of the Cochrane Activettes Food Bank, and is asking neighbours, colleagues, and friends to pledge donations through the Cochrane Activettes website.
"Knowing people in our community live with hunger and have difficulties readily accessing food does not sit well with me," explains Welden.
"The Cochrane Food Bank is a great cause that directly helps people in need. I want to support the Cochrane Activettes, who do an exceptional job of running the Food Bank and making a positive difference in our community."
Welden has been training for the Canadian Death Race for the past 10 months, through a combination of trail running and hiking in various mountain locations, including West Bragg Creek, Kananaskis, Banff National Park and the Historic Cochrane Ranche.
"The training and preparation for this event has been fun so far," said Welden. "Running with the beautiful scenery and friends, along with the fact that I am running for a cause, makes the journey much easier."
Those who would like to support Welden's run can donate to the Cochrane Activettes directly:
 Online: www.cochraneactivettes.com
 Cheque: Cochrane Activettes, Box 535, Cochrane AB T4C 1A7
 In person at the Royal Bank or ATB (Cochrane Branches)
*Financial contributions are eligible for a charitable income tax receipt.