This year in Cochrane, Alberta you'll have more New Year's Eve options to choose from than ever before!
But the fun doesn't begin after the sun goes down, Cochrane has plenty of exciting events on the go all day too!
And to make life easy, we've gathered up all the events right here for you! Easy peasy!

Enjoy the day Cochrane!
---
Martin Parnell's 10th and Final Run/Walk –
Raising funds for the Boys and Girls Club of Cochrane & Area, in support of programming for Teens at "The Club."
Registration takes place on the day of, from 8am to 2:30pm. Donate what you can, cash or cheque (made out to Martin Parnell).
Online donations can be made at https://bit.ly/35nPDfw
Marathon: 9am
Half Marathon: 12pm
10km – 1:30pm
5km – 2:15pm
2km – 2:40pm
---
New Year's Eve Party at Spray Lakes Sawmill Recreation Centre –
For the first time ever, the SPLSRC is hosting a Family New Year's party!
2-6pm | PLAY Zone, Public Skate, Board Games, Crafts
2-3:30pm | Basketball, Floor Hockey
2-3pm | Archery Tag
3-4pm | Dodgeball
4-5:45pm | Soccer
4:30-6pm | Dance Party
5:45-6pm | Countdown
▪️ Members: $5/family*
▪️ Non-members: $15/family*
▪️ Family limited to 2 adults plus dependents under 22 years
REGISTER TODAY TO SECURE YOUR SPOT (subject to capacity)
http://bit.ly/SLSFSCNewYearsEveParty
---
Cochrane's New Years Eve Family Celebration at Mitford Park –
The Cochrane and Area Events Society is proud to present a New Years Family Celebration to ring in 2020, starting at 4pm until 7pm at Mitford Park.
Here are a few of the activities you can expect of the night:
⛸️ *Ice skating (4-7pm) (BYO skates and helmets)
🎵 DJ Wild Bill (4-7pm)
🌲 Resolution tree (4-7pm)
🐴 Horse carriage rides (4-6 pm)
🔥 Fire dancer shows (5:45 & 6:30 pm)
🎆 Fireworks – sponsored by Home Treasures (7pm)
You can also be sure to enjoy:
☕ Hot chocolate
🍔 Burger & hotdog meals available for $2/person
🧣 A large tent for guests to stay warm in
🧸 Fun prizes
---
Ticket details:
5:30 Gala 4 course dinner with ENVY dance, champagne, confetti blast and treats $40
9:30 ENVY dance party $15
---
NYE 2020 at The Stump –
Join DJ WILD BILL for an evening of dancing at the Stump!
Tickets are $75 per person and include: Hors D'oeuvres, Buffet Dinner, Complimentary Drink, Midnight Snack, Complimentary Champagne and Party Favours.
To purchase tickets, call (403) 981 – 9995.
---
New Year 2020 Party at Mezzo in Fireside –
This is an ALL AGES event.
Tickets are:
$55 for Adults
$20 for kids
INCLUDES:
Buffet Dinner, Complementary Drink (Alcohol or Barista), Wine & Cheese Bar and Dessert
For more information or to purchase tickets
call us at (403) 981-6666
---
New Year's Eve at the Legion –

Dinner and Dance
Doors open at 6pm , Dinner at 7pm
Members $45, Non-Members $50
Dance Only
Entry at 8pm
Members $25. Non-Members $30
Dancing to the Smoking Aces! 8pm-1am
Bubbly/Snack at midnight!
---
NYE: Half Hitch House Party –
Half Hitch Brewing Company Presents:
NYE 2020 Half Hitch House Party
18+ / Event 9PM-2AM
//Line-up//
– Adam & Braydon Morisseau
– KNIGHT WOLF (Devin Petitclerc)
– Nick Isaac
//NO COVER – DRESS CASUAL//
$4.25 HIGHBALLS
$5.25 HALF HITCH PINTS
//Midnight Cask Toast//
//Party Favours//
---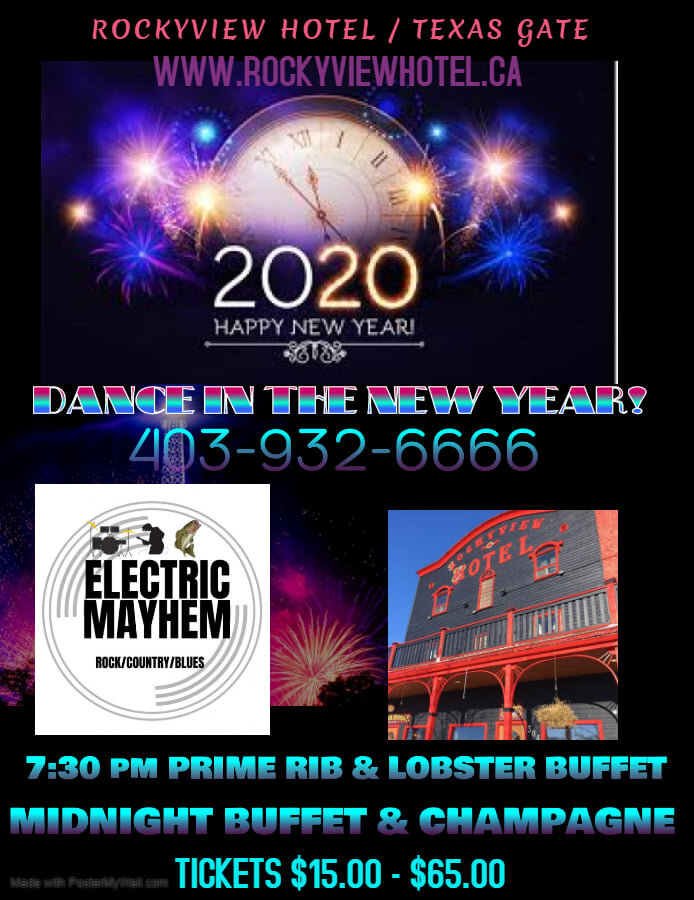 Dance in the New Year at the Rockyview Hotel & Texas Gate –

Tickets are $15 to $65 per person

7:30pm – Prime Rib and Lobster Buffet
Midnight Buffet and Champagne
Call (403) 932 – 6666 to reserve.
---
Fence & Post Special Menu –

Join the Fence and Post at 5pm to dine from their regular menu, or buy tickets online for the 6:30pm seating or 8:30pm seating, featuring a special menu.
Tickets are available here: TICKETS
Live music starting at 9pm.
---
New Year's Party – Welcome to the Roaring 20's at The Iron Bridge –
Bust out the heels, glitter, bow-ties and jazz moves and welcome the 20's at The Iron Bridge.
Live music starting at 8pm with Rob Skeet.
Speakeasy Menu after 8pm and a midnight bubbly toast!
Tickets are available in advance at the restaurant for $10, or for $15 at the door.
---
2020 Happy Brew Year Party at the Canadian Brewhouse –
Celebrate the arrival of 2020 with the Brew Crew!
Join us in saying goodbye to 2019 at our Happy Brew Year Party! Tickets are only $20!
Your ticket includes:
-Access to the pizza buffet – starts at 8:00pm
-Champagne toast at midnight
-FREE WINGS FOR A YEAR!
There will be $4.99 and $5.99 Drink Specials ALL NIGHT!
REGULAR SPECIALS:
$2.99 | Beef Tacos
$2.99 | Chicken Tacos
$10.99 | 3 Taco Meal (Braised Beef/Crispy Fish/Donair)
$4.99 | Margarita on the Rocks (1oz)
$4.99 | Shots of Jose Cuervo Tequila (1oz)
$19.99 | Buckets (4 bottles) of Corona
---
Whatever you get up to this New Year's Eve,
best sure to be safe and don't drink and drive!