Last week I was invited to participate in the Cochrane Tourism Associations 'trial run' of the new Mystery Town Tour 'The Reel Cochrane', an app-based game that takes you on a movie-themed walking adventure through Cochrane, Alberta.
Lucky for me, I had already test-run a few Mystery Towns Tours with other groups in the past (Canmore, Calgary Airport), so I was very excited to see how the Town of Cochrane would stack up!
We were instructed to meet up at the Legacy Statue at Centennial Plaza at 2pm in Historic Downtown, to get organized and to meet our teammates.
Outfitted with jaunty orange headbands and a cleverly chosen Team Name >>> Strike Force (which may or may not have derived from 2/5 of us having something to do with the bowling lanes in town, I digress…), we logged into the app and headed on our way, left with only our combined reading comprehension skills, movie knowledge and clues from around town to solve the game.
Because we all started as a large group that broke off into teams, we probably could have spaced ourselves out a bit more, but this led to a fun-competitive spirit between the pack. Eventually we saw no teams at all and were left wondering, how were we doing? Who was finished already? How many other teams had taken a 'hint' (which also gives you a penalty!), or who had simply got the answer wrong?
We eventually strolled into the last clue as the second-last team to return; however, when the scores were all added up – Team Strike Force was the winning team, with a perfect score to boot!
BAM! (What can I say, winning is fun!)
---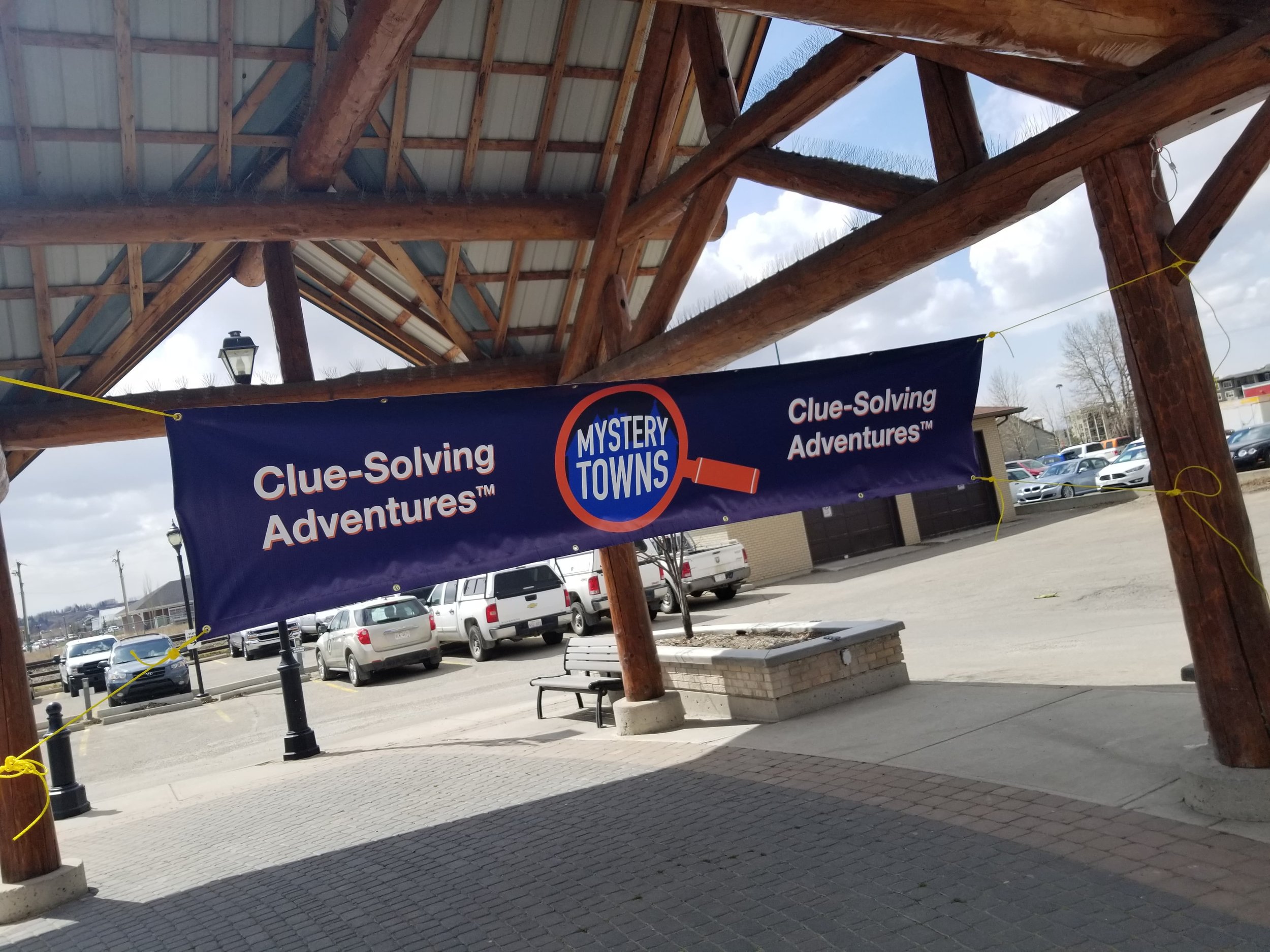 A few tips to those who may be thinking of forming your own team of trivia buffs and taking on this Mystery Tour for yourself:


The Cochrane Tourism Association is allowing you to get in on the fun with a 50% off promo code for a Mystery Town Tour game purchase until Saturday, May 11th ONLY! – Ticket details can be found here >>>

There is walking involved, approximately two kilometres of it, so if you have young children you'll want to bring a stroller and if you're an older person with mobility issues, you'll want to consider the distance.

Choose one person to enter all the answers into the app and make sure they can spell correctly too. Misspelling will count as an incorrect answer and your time will be penalized accordingly.
---
The best part about playing this Mystery Town Tour 'The Reel Cochrane' was seeing the town you live in every day in a whole new light.
If I was a tourist, I would have visited a whole bunch of cool places that I might not have known about, tried a few local fares and bevvies along the way and got some exercise in too!
So go sign up for your chance to try out Cochrane's newest interactive game – part scavenger hunt, part escape room and part Amazing Race – and get ready to have fun!
WE RECOMMEND THIS ACTIVITY – 5 STARS *****