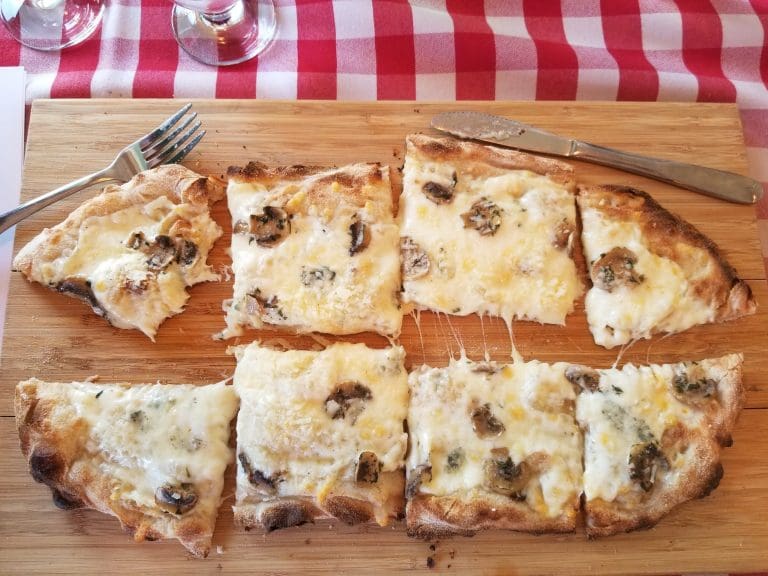 Have you been to The Boot restaurant yet, Cochrane?
This unpretentious and reasonably priced Italian Cafe-style restaurant is nestled into the east end of the Historic Downtown, and is known for its homemade, fresh menu.
While Chefs Francesco Azzurra and Tradati Lucioni originally hail from Milan, The Boot menu draws from most of their country's regions with salads, antipastis, pastas and pizzas, giving us our own authentic 'Little Italy' dining experience right here in Cochrane. Word on the street is that a brand new menu is about to launch soon… so stay tuned!
On the evening I went to The Boot, it had been awhile since I had a pizza ALL TO MYSELF, so I decided to order this >>> Alpina – Cream, Mozzarella, Gorgonzola, Padano, Mushrooms >>>  pinsa, romana-style pizza.
You know the saying, "when in Rome…"?
Well, when in Rome, I discovered to-die-for pizza that was invented more than 3000 years ago! Made with rice flour, soy flour and wheat flour, pinsa dough ages for 10 days in the 'mother yeast' and is served on a traditional wood board.
My meal was good (and I am not exaggerating, I can still smell the pizza right now!), but *BONUS* the whole meal with a glass of $6 Italian House Red Wine (which was ACTUALLY good) with tip, was less than $27 dollars all in. My dining guests all chose different pastas, but absolutely not one of us was dissatisfied with our meal selection and most ladies in the party, were repeat 'Boot' diners.
Tip:
The Boot is not a huge space, so if you are a party of 4 of more,
you should call ahead for a reservation.
---
Where: 205, 1st Street E. #13
When: Sunday – Thursday 11:30am to 8:30pm
&
Friday & Saturday 11:30am to 9pm
BUON APPETITO!
*This is not a sponsored post. I just really liked my experience and think you will too!*