Come and "Celebrate Sacred Space," as we commemorate the 75th Anniversary of Mount St. Francis Retreat Centre. The Mount has been a sacred place of peace, healing and prayer for […]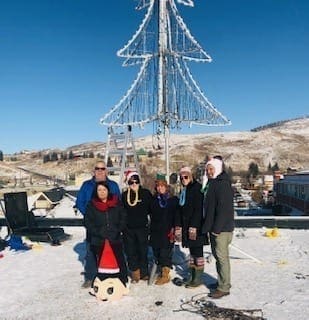 Getting a head start on Christmas decorating, the Cochrane Rainbows lent a helping hand to the Cochrane Light Up committee last week.
With the annual celebration only being a couple of weeks away, six members of the Rainbows gathered atop the roof of Rexall to erect the 30 foot LED tree.
Rob Halfyard, Co-Chair of the Cochrane Light Up committee and member of the Rainbows, says it was a bit trying this year. "Getting the ladder, sandbags, tools, etc. up to the rooftop is a labour of love for sure. Last year we had two experienced people that we were assisting to put it up. This year the Cochrane Rainbow crew attempted to do it on our own. Sadly, the lights, cords, and ties were found to be severely damaged, so we had to be extra careful not to cause more damage."
The tree which was initially purchased by Light Up board members in 2014, has become an iconic trademark of the festival. However, after being in the elements over the years, there will be some work that needs to be done, shares Halfyard. "We are disappointed that there are so many lights, not working, and there is not enough time to repair them at this stage of the game. "
Trying to take some things off of the Light Up committee's plate, Halfyard, says they hope to make things easier. "We hope this allows Steph to do other amazing planning for Light Up. Our crew lives to help out where we can, and we don't let the cold get to us. It's all part and parcel doing what we enjoy, and being part of the community spirit."
Despite the help from the Cochrane Rainbows, Stephenie Shelstad, Co-Chair, says volunteers are still desperately needed. Requiring roughly 140 volunteers, without them, the show can't possibly go on. "Cochrane Light Uo would not be possible without our amazing volunteers who keep the event flowing, replenishing supplies, and assisting event-goers with activities. Even if you only have an hour, help us make Cochrane's largest street festival safe and successful."
Knowing how much time goes into organizing and executing the event is exactly why Halfyard decided to get involved. "When I was helping with Light Up last year, I heard and witnessed that Light Up could benefit from having a strong leadership board, so I was over the moon to accept and share my experiences and skills. I love the community spirit and bringing people from all walks of life together and celebrating community connectedness."
This year's Light Up is set to take place on Historic Main Street (First Street West) from 4:30 to 7:30 p.m.
Watch for updates as we get closer to the event. If you can spare some time consider signing up to help by clicking the link http://www.cochranelightup.com/volunteers/