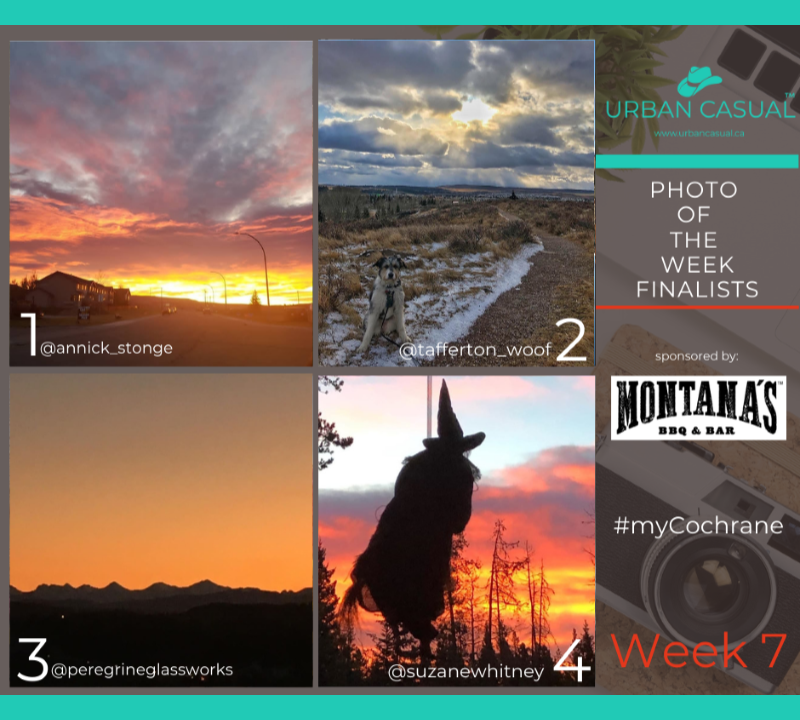 Welcome to our Week 7 of our PHOTO OF THE WEEK
– Finalists Vote on UrbanCasual.ca!
These photos will be competing for a $25 Gift Card to Montana's BBQ and to have their photograph featured on our website next week.
And the PHOTO OF THE WEEK finalists are:
1/ @annick_stonge – A Cochrane Sunrise
2/ @tafferton_woof – Doggie meets sky.
3/ Peregrine Glassworks – the view from Cochrane Heights
4/ @suzanewhitney – Witchy Skies
>To vote, leave a comment on this post with the number of the photo you like best.
Voting will take place on Instagram and Facebook.
A total of 2 potential votes per person. One vote per person per platform only.
Voting ends Monday, November 4th at 11:59pm MST.
A winner will be announced on Tuesday of each week.
** To the 4 finalists, please feel free to promote your photos in a respectful manner.
>>>>>>>>>>>>>>>>>>>>>>>>>>>>>>>>>>>>>>
Want to get in on this next week?
All you need to do to enter the PHOTO OF THE WEEK Contest is to follow @casual_Cochrane on Instagram & Hashtag your photos with #myCochrane.
The photo should be submitted by 11:59pm on Tuesday.
Keep your photo to within 25km of Cochrane and please have
it be as recent as possible.
*If your Instagram profile is set to private and I'm not following you, I will not be able to see your photo.
*If you're under 18, please have your parents permission.
GOOD LUCK TO OUR FINALISTS! —